La Union Hash SUSPENDED... Please check the calendar page for details...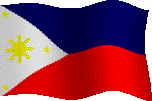 The La Union Hash meet every Saturday afternoon. We normally start at 2.30PM, except for special occasions when the time may be altered. Please check the Hash Calendar Page. The Hash fee includes, drinks that may be consumed at the drink stop or during the circle "down-down". Pay as you go for all other food, drinks etc., that are consumed during the hash
Recommended Hash Dress. Hash T-shirt and shorts. Trainers\Rubber shoes are necessary.
Message from Cockroach… If any hasher can help ease the plight of these people that were so badly affected by the last typhoon, please contact him…
I visited two of the hardest hit Barangay's in San Gabriel, La Union with the Rotary Club to access what assistance we could provide. Many people there have lost everything they own to include their homes. Lots of farmers had their entire rice harvest destroyed or even swept away by the flood. Livestock have been killed or are missing. Needless to say things are grim but the people I met were still friendly and positive.
The Rotary Club and I are meeting the Mayor of San Gabriel on Wednesday, October 20th to donate clothing, bedding and household items. If anyone wants to donate anything to help out just contact me on messenger under Gibby Nomade
Hashers, any help would be gratefully appreciated